When you get a phone call at 2 in the morning you don't know what to expect. You look around and all your family is here safe sleeping, thank God. You look at the caller id and see it is from across the country so maybe 2 am is not such a big deal it is only 11 there time. Late but possible they forgot the time difference. You joyfully answer because the number belongs to your brother but then he says it is the 2 am phone call you did not want to get.
It is my husbands brother calling. Calling about their dad. He said Dad was in the hospital again another possible stroke. He will let us know more. They are running tests. Test because no one knew what happened. He is an older man who lived alone, isolated with none of his 7 grown children near by. He was found unconscious on the floor by a worried friend and sheriff to let him in. Although unconscious he was alive and rushed to the hospital. By household signs, phone calls and pet excrement it was determined he had been there 3 days.
Three days two worlds apart is how our story plays out. Living on two separate coasts Jay and his father had little contact. We had not seen him in over 10 years. He has never meet any of the grandkids. He had back problems which made it so he could not fly. We have a family of 6 which makes it unaffordable to fly. Jay called him ever so often. We would receive 1 card a year at Christmas. There was no bad blood just distance. Being so far from the grandkids and never having meet them there was a disconnect.
That is why on Friday we were shocked when a little white package came in the mail from him. He had not mentioned sending anything, although I can't remember the last time Jay talked to him. And we certainly were not expecting anything.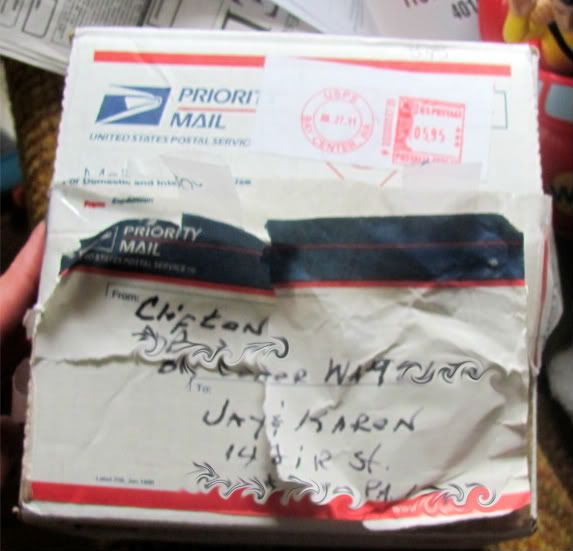 I handed it over to Jay having no idea what it was or why it was sent until he opened it. Inside were placed two things... A bunny for Faith and a note. It was a present for her. I don't believe he sent any of the boys something, maybe a card with the oldest but 8 years ago is foggy. He sent something for our joy. He was happy for us sharing in our overwhelming love. He sent her a little bunny.
There was also a note in the box. A note I did not even know about till today. Jay saw it and read it but left it in there.
The not read "Here is a cutie for your new cutie. Tell her it is from her old Grandpa in Washington. Dad"
The box laid on the floor for days. No one picked it up no one moved it. It laid where we left it until today. Everyday I saw it, everyday I though about picking it up but everyday I let it lay.
After receiving the gift we tried to call his dad to say thank you. But there was no answer there usually is not. We tried for a few more days. The ironic thing was just as the box laid there on the floor of our house 3000 miles away the sender laid there on the floor of his.
After a pretty sleepless night I woke up early with the kids. The place was a mess as Jay went to bed around 4. The phone rang and I could not find it in the mess. The answering machine picked up and I could hear the caller it again was his brother. As the message started I listened and frantically looked. I screamed at the kids to move and help me find it as the message continued and tears were forming in my eyes. He hung up and I still did not find the phone. Soon after I found it and I called his brother right back but no answer. I could not reach him which meant he could not tell his brother the message I had to. I had to tell my husband that his father who he has not seen in years nor could we get to in anything less than a full day and a miracle had only hours left to live.
I broke down. I did not want to tell him this. No one should have to tell some one this. How would he handle it? What do I do? How do I help him? I left the message on the phone. The same and only message still sits there hours later.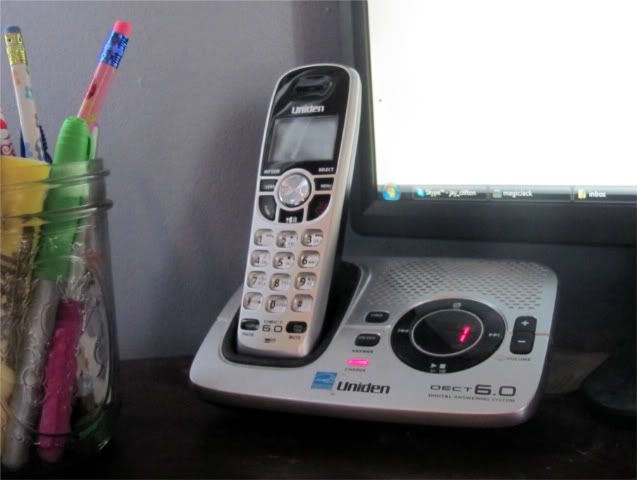 It has been a hard day. I have cried and Jay has been texting his family. Sadness holds overhead like a fog that just won't lift. Jay says he just feels numb.
I believe that laying here, wollowing here waiting on the news of the death is harder than it would have been to get the conformation call in the first place. Knowing your father is dying slowly but in the same time quickness of a few hours is excruciating. 12 hours now is our few hours. We are still waiting for the impending news.
All thing are possible with God and if you are thinking that may be the case here it is not. His dad suffered another stroke and is paralyzed in all but his left arm. He can no longer speak, or see but hear. However his ability to recognize the voice is questionable. He has not had oxygen to most of his brain in over 72 hours.
In our sorrow Jay picked up the box. The date on it was sent let us know that this was probably the last thing he did. He was thinking about us, thinking about our princess. Our gift out of nowhere was sent before he could do no more. Jay believes he knew and did this because. Maybe. Why out of the blue did he send us a package? A baby gift for our 4 month old. Well she loves the little bunny. Even if you never heard us tell you in person, even though we never will be able to , Thank You.
I take pictures tons of pictures. But I only knew of one I have of him. I scoured the house trying to find it looking where it should be. It wasn't there. I kept looking and I did find it. Besides our bed. Under the bibles.
There again on the floor laid my picture book containing the one photo I have of Jay and his dad.
This reminds me and sticks to my heart 1 Thessalonians 5:18
"give thanks in all circumstances, for this is God's will for you in Christ Jesus."
I am not thankful he is gone. I am not thankful we never got to see him after we drove away. I am not thankful that he will never meet the children nor they to meet him. I am not thankful my husband no longer has a father on earth. But I am thankful it is not one of my children laying there.
His father had a long life. His dad was brought joy everyday by his dogs. He finally built his dream home and got to spend a few years there.
The life that is being took is a seasoned life. The life's left are those of babies with the future in front of them. I have seen so many sick kids near death I am so very thankful for the health of mine. May they continue to grow and live strong happy lives as there grandpa in Washington would have wanted. And my he pass peaceful to a better place where the is no longer pain and suffering.