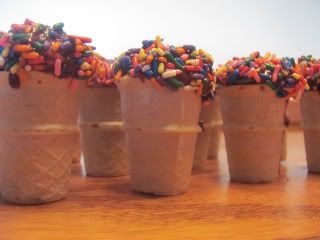 My kids were having a Family night at school and we were all supposed to bring a dessert. I did not want to bring another plate of cookies. I wanted to bring something a little different, something that everybody else was not bringing. I searched on line. My requirements were yummy, easy, quick, can feed many and won't break the bank. And then I found
this
recipie. It was too cute and it seemed like it would meet all my requirements. Plus if I doubled it there would be more than plenty.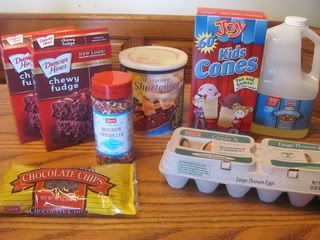 Gather up all the ingredients. If you have kids you will have most all ready.
* 1 package fudge brownie mix (13-inch x 9-inch pan size)
* 17 ice cream cake cones (about 2-3/4-inches tall)
* 1 cup (6 ounces) semisweet chocolate chips
* 1 tablespoon shortening
* Colored sprinkles
Remember I doubled mine so that's why there is more. Plus I recommend getting lots of sprinkles I will let you know why further down.
This is such an easy recipe so enlist your kids help and have fun.
Make the brownie mix according to the package directions in a bowl that is too small for a double mixture.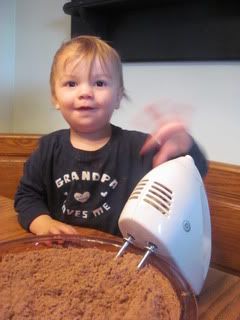 Let your almost 2 year old help mix it because he needs a bath today anyhow.
Heat you oven up to 350. And get out as many cupcake tins as you can fit into your oven.
Knowing that I wanted to make a lot I bought the largest package of ice cream cones I could. There were 60 in there. I looked at the box that was not to much bigger than the normal boxes I buy for the boys and wondered how did they fit 60 in there? Hum, I figured I would find out soon enough. And surly I did. They were TINY!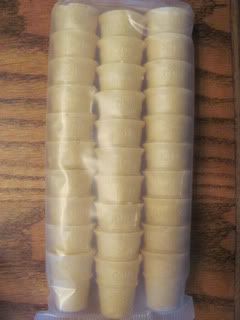 Ugh, oh no! I am going to spend all day baking. I had never seen such small cones. What skinny people only eat that little of ice cream? The were only 2 inches.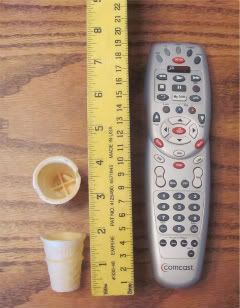 As it was late in the afternoon I did not have time to go to the store and I did not have enough big ones on hand I went ahead and used the tiny cups. (Funny thing as I was reading the recipe again before I wrote this it calls for those tiny cones. go figure)
Fill each tiny cone up with 2, the recipe says 3 but trust me at 2, scopes of brownie mix.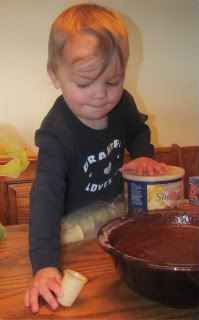 Now repeat this 60 times.
Eventually your baby will have filled 60 cones. You need to place them standing upright in the cupcake tins. Babies are not very talented at this yet and they often fall over and make a mess.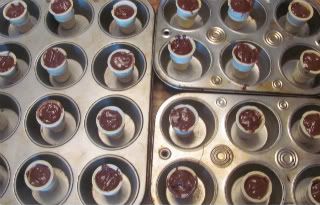 The directions say not to over bake and the mix said 20-25 minutes so I went with 15. This was fine but bordering on to long.
The brownies do not come out looking like scopes of ice cream. I was very disappointed, I thought I had ruined it.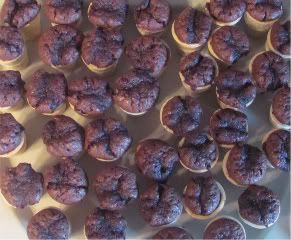 But I also thought I could fix it. I squeezed the soft misshapen brownie top in to more of a scoop look but not trying to hard. I also figured with the chocolate and sprinkles it would hide all.
Next take two large tablespoons of shortening and the semi sweet chocolate chips and melt in the microwave till soft. Stir until smooth.
Dip the top of the brownie in the chocolate as far as the cone line and then hold it above to let excess drip off.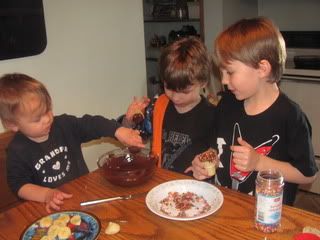 You can do this part either way
1. hold cone upright and sprinkle Jimmies over it. This woks okay but a lot of sprinkles fall off and pull the sides of chocolate down too.
I chose to have the boys do it this second way.
2. dip the cone into a bowl full of sprinkles and roll it around. This way tons stick to the side and top.
But why you need a lot of sprinkles is because this way make many dirty sprinkles that fall off into the bowl. Just find a way that works for you. Be smarter than the sprinkles.
Let set a few minutes and them enjoy.
It was so super easy. It is something I will do again. And the cute fun factor...I love. The kids at family night enjoyed them and Evan gave me a thumbs up. I hope you try them and enjoy as well.