I am glad. I spent weeks stressed out about what to do for Easter. How to decorate, what to wear, a big party or little one, what food, what about my under construction house,where is the time? Even with Easter as late as it was this year I had a hard time finding the time to get everything done. I think I could have possibly
had
the time if I would not have been spending time stressed about it.
How did it turn out? Wonderful of course.
What did I plan? Nothing. We just celebrated.
Friday we did color eggs. The boys were so happy they were looking forward to this.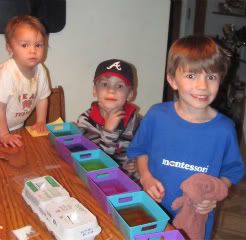 After I took this picture I realized my oldest was wearing his school shirt. Now they don't have to wear a uniform at school but sometimes are asked to wear this blue shirt you see him in. It just so happen that 3 of those times are this week and one of them is for a picture. So of course he is wearing it to dye eggs in.
They dipped the eggs.
With all the different egg packs we had I pretty much went with dying them traditional colors. They boys did put wrappers and stickers all of them.
I hope it was fun for them. It was very stressful for me. And the I remembered why I hate coloring eggs.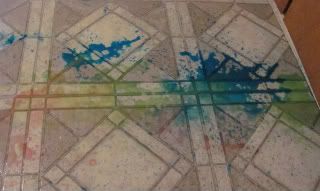 It was everywhere. It stained dishes, the table, and my feet. Yes when it spilled it got on my feet and for two days I was walking around with blue feet. I thought I would be wearing boots to church.
Decorating I left to a minimal. I only put a few things up in the kitchen. for the past three weeks Evan had been bringing home egg pictures he colored at school. I hung those on one wall and put the egg holders that came with the box up on another. They were cute I might let them stay a week or so.

Is the Easter bunny real? Last year my kids figured out it was mom. However, they forgot that and this year still believed in the bunny. If they would have looked at what the bunny left them they could have figured it out this year too. But you don't care when you want to believe. They loved what they got.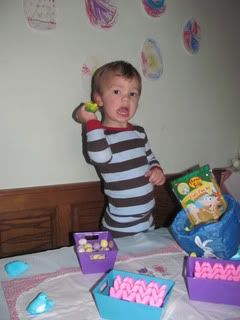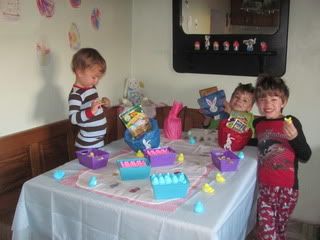 Secrets
1. The same containers we used to dye the eggs in now hold peeps from E.B.
2. The blue sheers are from my room and the white runner we have out every year.
3. They were playing with the bunny the day before
4. The same baskets E.B. brings every year that were sitting in the living room for three days now, that they were rummaging through.
5. They kept asking about Faith, what is she going to get since they know she can't have candy. I kept telling them she is to young next year E.B. will bring her a basket to. But I felt bad and wrapped up a can of baby food from the pantry.
6. Candy from the candy box on top of the fridge.
I hope Santa is more clever.
The whole weekend was forecasted in heavy rain. Which is why the party idea pretty much got thrown out. I was dissapointed and the boys were even more so. However it turned out to be a very warm sun shinning weekend, it was beautiful. Way to call it again weatherman. If we would have known it would be like this we could have done a lot of activities outside. But we instead had a lot of fun with our Sunday school class inside. We sang, had a story, had snacks, and played games.
It was enjoyable. Our own little Easter bunny was even there.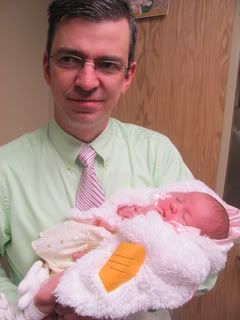 She might have the smallest bunny but as everyone knows bunny multiple. We ended up wit 20 some!
They are so funny and look just darling all dressed up.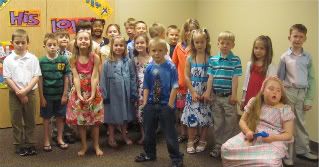 Jay and I have not been to church on Easter since before Gregory was even a year old, he is now 7.
As many people just go to church on Christmas and Easter we avoid it on those two days. There are so many extra people it chaotic. After all showing up there two times a year does not make you a good Christian. Following Him everyday does. But since we were teaching the 1st graders we had to go. This year amongst many times changing plans my parents came with us. That was special and it was my mom's birthday too!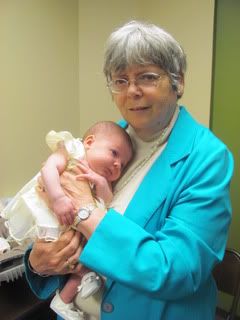 She got to hold a little present through the whole service. I can tell she loves having a granddaughter. Faith is not her first granddaughter but the tiniest. She mentioned to me that my dad has yet to hold Faith so I put her in his arms and took a picture.
I can understand. Some people are very uneasy around babies. It does not mean he loves her any less he is just used to my rough and tough big boys. Speaking of them, they tried to get a picture with them and the grandkids. Tried is the oppertive word. We shot picture after picture and they all came out like this.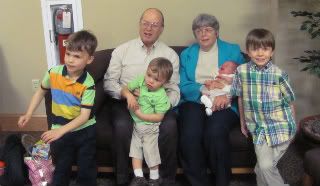 Someone was always running off, making face or crying.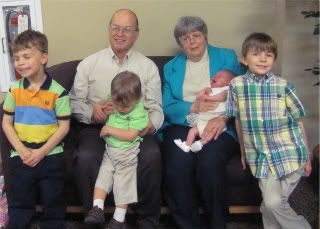 Oh my goodness.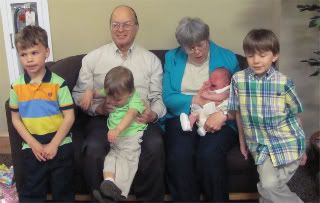 Foolishly we tried to get one of the 6 of us too. Same story. Many out takes and a few sorta okay ones but again someone is always doing something. And all the boys shirts are untucked. At least they were not covered in mud yet.
My kids are little boys not models and I love them.
As far as dinner we grilled and it was delicious. I was easy and its all gone.
So I am glad this holiday is behind us. Stress has eased up for this week at least. And maybe I will start getting ready for next year, probably not. After all May has a few stressful times planned too. I will just get started on those.