I love soup. To me soup is a meal. It is warm delicious and so comforting. Since I eat it as a meal I look for hearty soups or chowders that can keep me a bit fuller. I came across
this
recipe the other day and it sounded great plus it was by Paula Deen and I LOVE her!
My silly boys wanted hamburgers for school I did not see that as a problem adn thought if I am all ready grilling at 7 am why not make this soup today too. It was easy opportunity. So before I even started with the recipe I grilled the chicken breast and poblano peppers. Now the recipe does not to say to grill them but I love them that way and it adds another layer of flavor.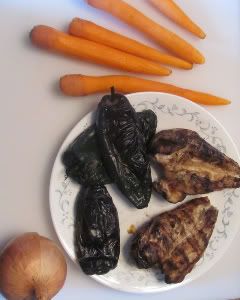 With that part done now gather your ingredients and this one takes a few.
Ingredients
* 1/4 cup olive oil
* 3 large carrots, cut into 1/2-inch dice
* 2 large onions, cut into 1/2-inch dice
* 5 stalks celery, cut into 1/2-inch pieces
* 1/8 cup minced garlic
* 2 to 3 small poblano peppers, seeded and cut into 1/2-inch dice
* 1 teaspoon salt
* 1/2 teaspoon white pepper
* 1/4 teaspoon ground cumin, or more to taste
* 1/4 teaspoon dried thyme, or more to taste
* 1 tablespoon chicken bouillon granules
* 3 quarts chicken broth
* 1/2 bunch fresh cilantro leaves, minced
* 3 cups diced (large pieces) grilled chicken
* 1/2 cup (1 stick) unsalted butter
* 1 cup all-purpose flour
* 1/2 teaspoon hot sauce, or more to taste
* 1 cup heavy cream
Here is where the time consuming part starts.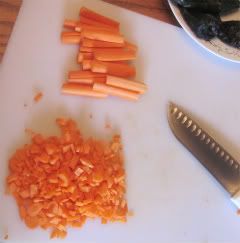 Cutting and chopping everything. It took a lot more time than I thought. But since I was cutting and chopping why not cut up extra for the boys lunch? So feeling like a good mom made a couple days of cut veggies for them too. But Smiley and I got hungry so we ate the celery.
After you got things prepped. Heat the oil in a large stockpot over medium heat. Add the carrots, onions, celery, garlic, poblano peppers, salt, white pepper, cumin, and thyme. Saute for 7 to 8 minutes, or until the vegetables begin to soften.
Oh it looked so good and healthy but this is a Paula Deen recipe remember so it will not stay that way.
Stir in the chicken bouillon now why you can before little ones think it is a packet of gum and run off.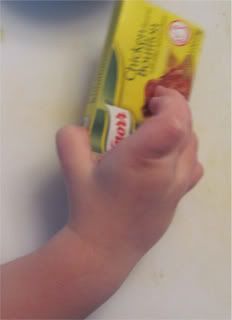 Add the chicken broth.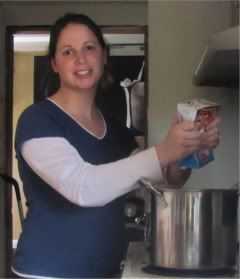 And if you are like me who bought the large boxes of 32 ounces chicken broth check your trusty liquid conversion magnet to find out it is 3 of those boxes.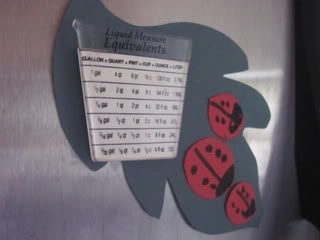 Now here I would not put as much broth in. I found that 3 boxes is a bit to much for my liking. You do thicken up the recipe but not all that much. Do it to your liking. Plus I use low sodium chicken broth because there is to much salt in the bullion and broth and you add some. I cut out salt where I can. If you like more once its done you can always add to it but you can never take salt away and can easily ruin a dish.
Add cilantro, and cook for 10 to 12 minutes, or until the carrots are tender. I added more cilantro. Just because I love it. Isn't that a pretty green?
Stir in the chicken and cook, stirring frequently, until the chowder is thick and the chicken is heated through. Shortly before the chowder is done, melt the butter in a large skillet over medium heat. Add the flour and stir to combine. Cook, stirring frequently, for 3 to 4 minutes to cook the flour. Do not allow the mixture to brown!
And of course while you can move from the stove your perfect sleeping angel will need attention too.
Ladle 1 cup of the hot liquid from the stockpot into the skillet, whisking constantly. When the first cup of liquid is incorporated, add another 2 cups of liquid, 1 at a time. Pour the mixture in the skillet into the stockpot, whisking to blend. Cook, stirring frequently, for 3 to 5 minutes longer, or until the mixture begins to thicken. Remove the pot from the heat. Stir in the hot sauce, then the cream, and serve.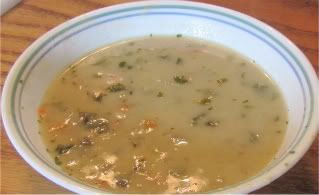 This was a good soup/ chowder. It had a nice base flavor but felt like it was missing something. I ate it over and over so not bad at all. I don't know if it will be a repeater, probably because there is something that pulls you to another bowl. Next time I might try adding chorizo and less liquid. Doctor it to your own liking and enjoy.