This recipe is super easy and I bet you have most everything on hand. I am not one for fried chicken but this is really good. And if I don't have to go to the grocery store good suddenly becomes GREAT!
Buttermilk Fried Chicken
Gather all you ingredients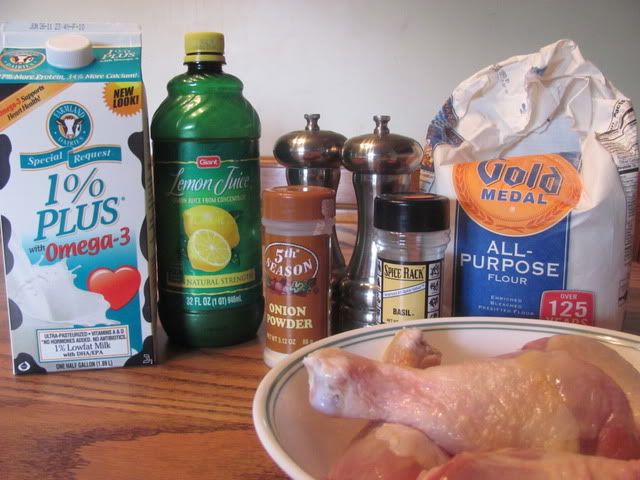 4 to 6 chicken frying pieces
1/3 cup all purpose flour
1/2 tsp. dried basil or thyme crushed
1/4 tsp. salt
1/4 tsp. onion powder
1/8 tsp. ground black pepper
1/4 cup buttermilk or sour milk
Cooking oil
Start with the dry ingredients.
In a shallow dish, combine the flour, the basil, salt, onion powder, and black pepper. If you would like hot and spicy fried chicken you could add hot spices here to your tolerance.
In another shallow dish pour in the buttermilk. Now I mentioned that this was so easy because ou have everything on hand... well, buttermilk is not something I keep on hand so instead you can use sour milk and it taste just great. But how do you make sour milk?
To make 1/4 cup sour milk, place 3/4 tsp. lemon juice in a measuring cup. Add enough milk to make 1/4 cup total liquid; stir. Let mixture stand 5 minutes before using.
Now you are ready to bring out the chicken.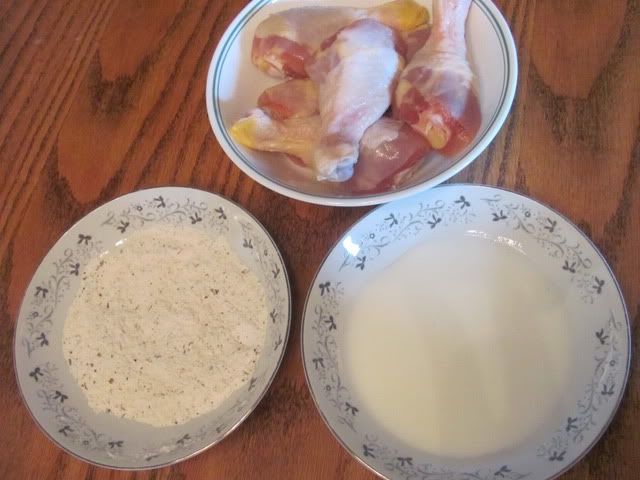 Coat the chicken with the flour mixture. Dip it into the sour milk and then again into the flour mixture coating all side.
In a large skillet, cook chicken in hot oil over medium heat for 15 minutes turning to brown evenly.
Reduce heat to medium-low. Cook, uncovered, for 35-40 minutes or until chicken reaches 180 degrees, turning occasionally.
Remove from skillet and drain on paper towels.
Yum. I know it is hard but don't eat it yet. You still need a side. I made mashed potatoes. Everyone has there own recipe for them but here is mine. And it comes out super yummy with out every putting gravy on it.
I use red potatoes because I like them best.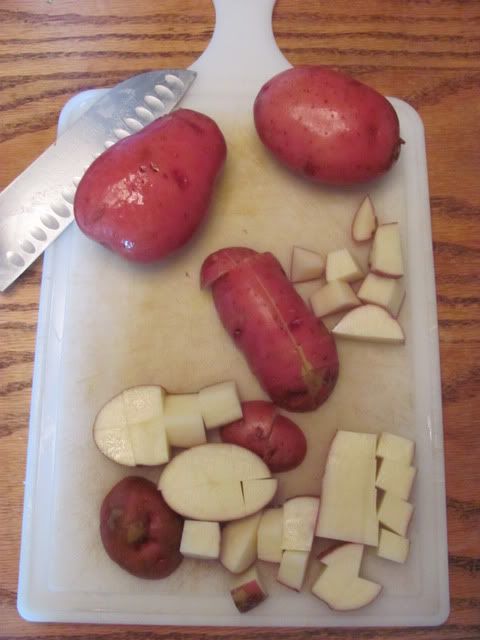 Dice them and I boil them in half chicken broth, half water about an inch over top with a bay leaf or two, depending on the size of the leaf. After they have boiled to fork tender strain them.
Return the potatoes to the pot and add more butter than you would like to admit too.
I use milk, mayonnaise, and whatever I have on had to mashed them with and it always turns out great.
Today I had blue cheese. Some days I use sour cream, or ranch dressing, or cheese, use what you like. So how much of each do you put in? Humm, a dap of this a dollop of that, really. I don't pour in to much milk, remember you can always add more of these ingredients but you can't take them out. I use about 1/4 cup of mayo and a few squeezes of the dressing.
Most importantly use a potato masher to mash them NEVER a mixer.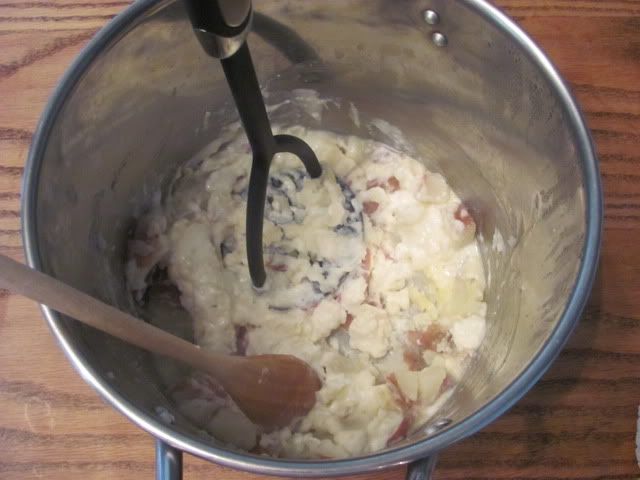 I taste as I go and adjust the ingredients to make it delicious. And add salt and pepper to taste.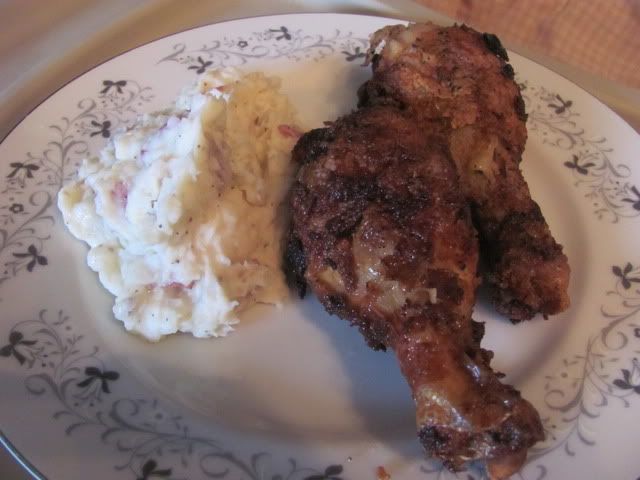 In the end you have a delicious dinner that did not cost much or require you to go to the store. Enjoy.